What Jewelry to Wear with Which Sweater, According to Stylist Micaela Erlanger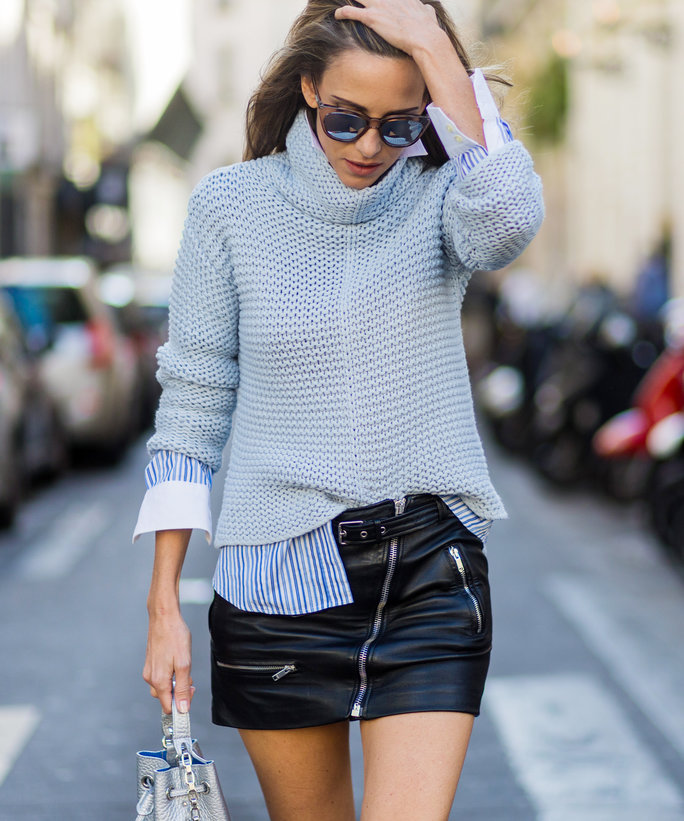 We all know Micaela Erlanger' s work. Her influence is felt every time Lupita Nyong'o wins a best-dressed title for any one of her red carpet looks or when one of her clients stuns as she accepts her statuette on stage (most recently, that would be Tatiana Maslany and her Emmy for Outstanding Lead Actress in a Drama). So when it came time for jewelry brand PANDORA to choose a stylist to spotlight for its new #TheLookOfYou initiative , Erlanger was, of course, top of mind. In the campaign, she along with two others (Caroline Issa and Rebecca Corbin Murray) were tasked with outfitting the same girl through their interpretation of her personal style, which led to three very distinct looks. Spoiler alert: All three were incredible (which you can see for yourself at pandora.net ).
"The campaign, for me, was so celebratory of personal style; it was about expressing who you are and being able to find the accessories that are, essentially, extensions of who you are," Erlanger tells us, stressing the importance of accessorizing. "For me, jewelry is the icing on the cake. It can punctuate any look, and I believe it's the most important step because it makes your outfit more personal."
Erlanger's sartorial expertise may be red carpet-centric, but her accessories ethos can be applied to any look. To that end, we asked Erlanger how she would style this season's top sweater silhouettes for her signature, red carpet-worthy spin. From asymmetric earrings to long pendants, keep scrolling to see her jewelry-knit pairings for fall.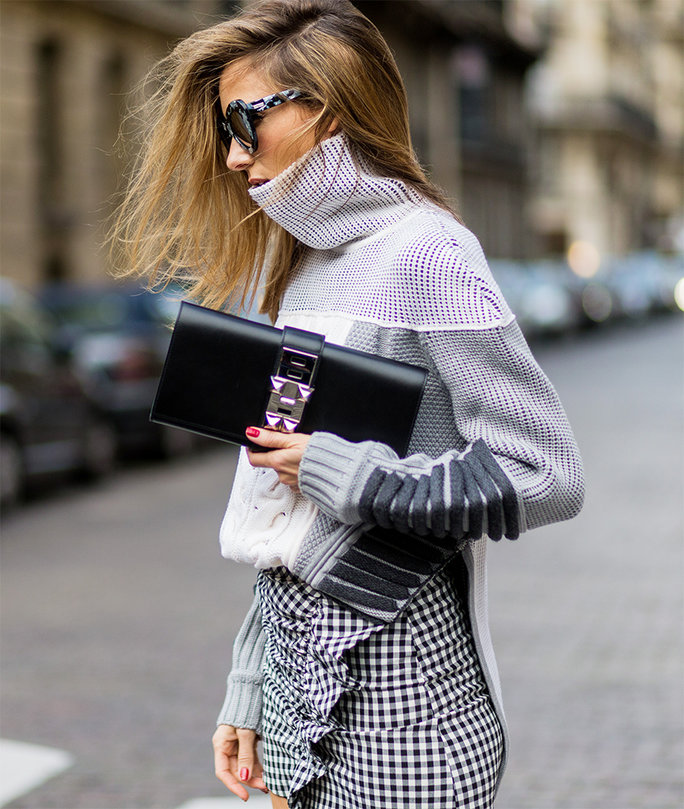 1.

Sweater Style: Turtleneck

Her jewelry pick : Vintage-inspired stud earrings

Oversize studs are statement enough to stand out without getting in the way. Vintage-inspired styles, especially, can strike a neat contrast when paired with a modern graphic turtleneck.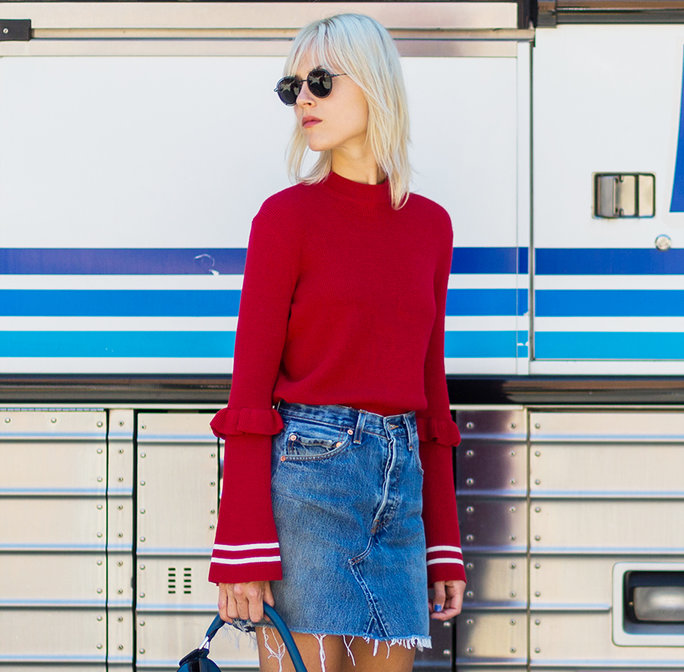 2.

Sweater Style: Bell-Sleeve

Her jewelry pick : Long pendants

"Bell-sleeve sweaters are so cool. My advice is to really play up your necklaces to balance out the sleeves," Erlanger says. "Wear one long pendant or a couple and do the layered look."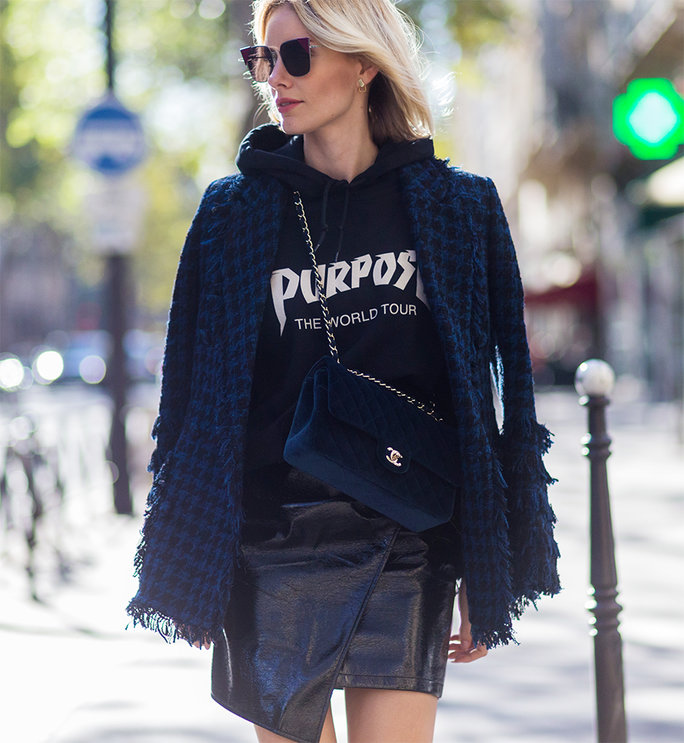 3.

Sweater style: Hoodie

Her jewelry pick : Asymmetric earrings

"Have fun with jewelry—there aren't any rules anymore," Erlanger says. "These days, I'm really into mixing and matching earrings—as in wearing one instead of a matching set. A drop and a stud earring would be cool with a hoodie."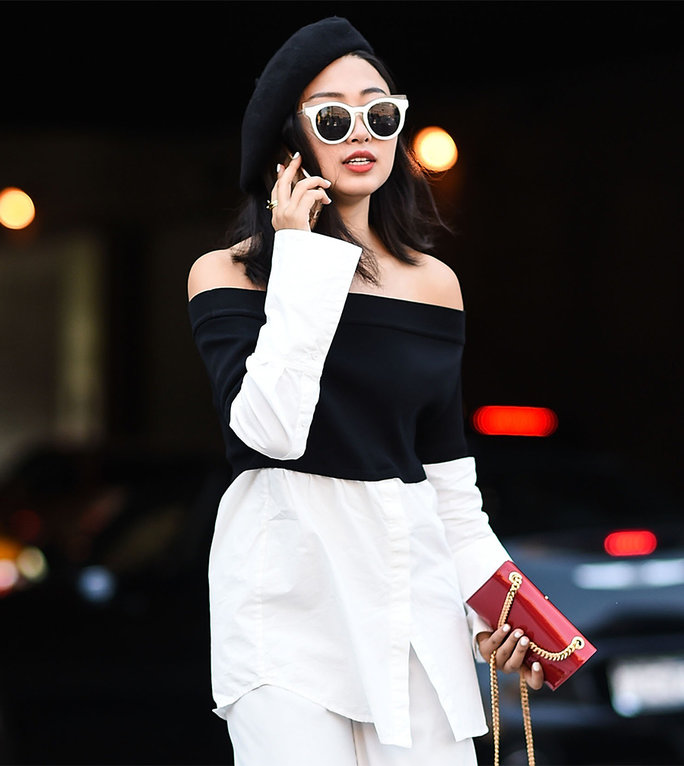 4.

Sweater Style : Off-the-shoulder

Her jewelry pick : Stackable rings

Leave your neckline bare for an alluring (and yet, very minimalist) effect. Instead, Erlanger suggests decorating your fingers with tiny diamond rings or your wrist with a dainty charm bracelet .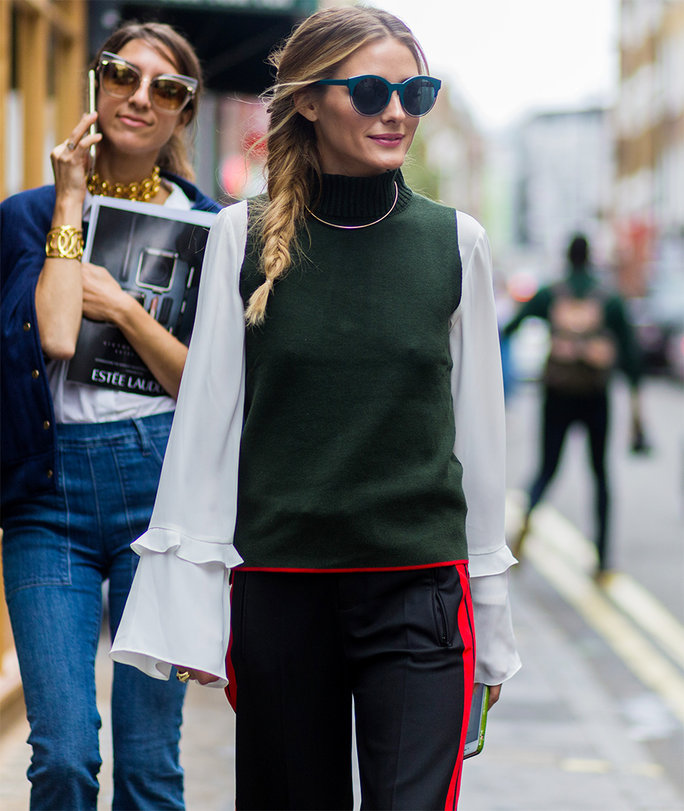 5.

Sweater Style : Sleeveless

Her jewelry pick: Stacked bangles

Fashion a makeshift sleeve with a set of bangles (Erlanger says she loves a mixed-metal stack of silver and gold). But once temps drop, layer it over a long sleeve and decorate with a thin collar necklace, as seen on Olivia Palermo .